StarMed® Ultra Nitrile Blue Powder-Free Textured Exam Gloves (Case of 10 Boxes) Item SMTN25
250 gloves per box. 2,500 gloves per case. (225 and 2,250 in XL).
Description
StarMed® Ultra Nitrile Exam Gloves by Sempermed® provide a comfortable fit and feel without sacrificing protection and peace of mind. They are perfect for medical, dental, veterinary, tattoo, laboratory, and food preparation applications. These gloves have been tested for use with chemotherapy drugs and exposure to Fentanyl. They feature the new Smart Dispense Single Glove Delivery™ packaging method, which reduces wrinkles and allows for more gloves per box.
Because they come 250 to a box and 2,500 per case (225 & 2,250 in XL), they will also save your practice money and use less storage space. With all that they have to offer, Starmed® Ultra Nitrile will become your choice for all your basic exam glove needs.
FEATURES
• Smart Dispense Technology
• 250 gloves per box (225 XL)
• Unique formula
• Manufactured from Synthetic Nitrile Rubber (NBR)
• Powder-free
• Beaded cuff
• Textured fingertips
BENEFITS
• Single glove delivery with fewer wrinkles
• Greater operational efficiencies
• Reduced tackiness, quick and easy to don
• A latex alternative for those with latex sensitivities
• Eliminates aerosolization of glove powder
• Drip protection for forearms
• Improved tactile sensitivity, grip and fit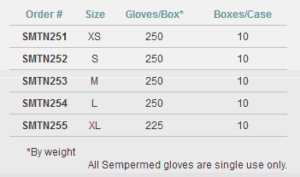 SKUs: SMTN251, SMTN252, SMTN253, SMTN254, SMTN255
Additional information
| | |
| --- | --- |
| Weight | 2 lbs |
| Dimensions | 12 × 7 × 5 in |
| Case Size | Extra Small – 250/bx, 2,500/cs, Small – 250/bx, 2,500/cs, Medium – 250/bx, 2,500/cs, Large – 250/bx, 2,500/cs, Extra Large – 225/bx, 2,250/cs |
Please enter a valid email address.
Thanks for subscribing! Please check your email for further instructions.
Something went wrong. Please check your entries and try again.